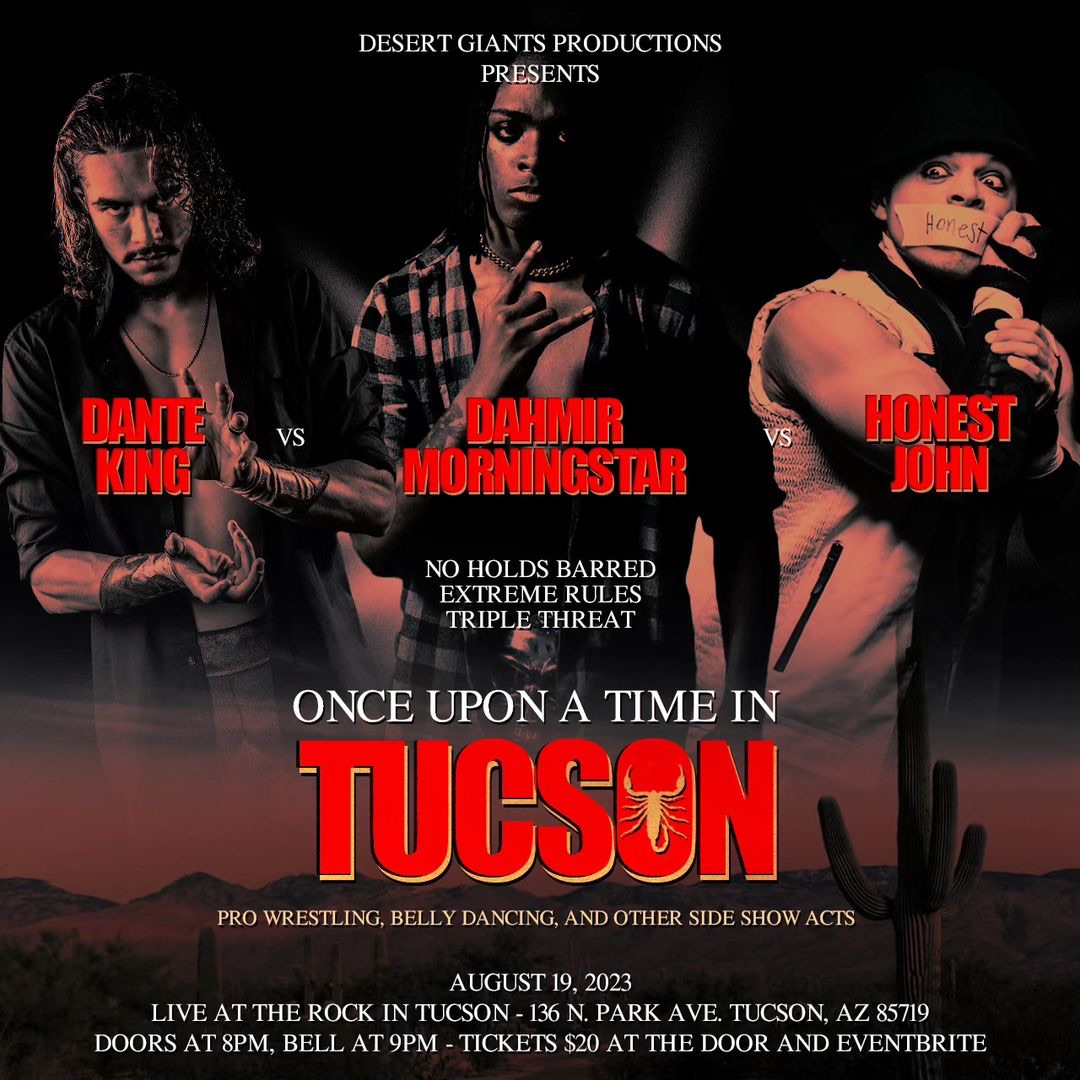 Desert Giants Production Presents:
Once Upon a Time in Tucson!
Come catch this Las Vegas company as they debut their live wrestling show out in Tucson, Arizona.
Presenting a wild night of wrestling, belly dancing, and other side-show acts.
We have 6 matches guaranteed to shock and amaze you:
Chase "The Main Attraction" Bell takes on Renegade B. Jackson.
Duke "Hypebeast" Lawrence dominates and shows Angel
Celestial, why the mighty giant remains unchallenged and unconquered.
Local mischief-makers and freaks of nature, Chris Evans and Johnny Savoi battle it out to see who is the real talk of the town!
Top Tier Bovi battles it out with the ferocious Brandon Gee.
And, in a match destined to disrupt a household, Otto Von
Clutch takes on his father Tombstone Jesus in a fight that will tell us who is the real alpha of the family.
Finally, for our main event we will be bringing you a no-holds-barred, extreme-rules, triple-threat-match between Honest John, Dante King and Dahmir Morningstar to see, once-and-for-all, who is the True King of Tuscon!
But that's not all!
Along with this chaos and violence, we also bring you a night of passion and lust.
Yes, be prepared to gaze upon the lovely seductress Azzah, who will be performing a sensual belly dance routine to warm up the cold desert night!
And hell, if we're lucky, she might even bring a friend!
21+
Doors at 8:00 PM
---