When:
June 28, 2019 @ 7:00 pm – 11:45 pm
2019-06-28T19:00:00-07:00
2019-06-28T23:45:00-07:00
Where:
The Rock
136 N Park Ave Tucson
AZ 85719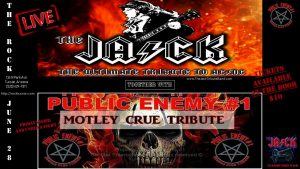 21+
In most circles of Rock-n-Roll influence, AC/DC is largely considered to be one of the very best live rock and roll bands of all time.
"The Jack" is the Ultimate and true to life AC/DC experience that will indeed leave you "Thunderstruck" and screaming for more!!
Everyone involved… the performers, the stage hands, the crew… that make up The Jack are very passionate about re-creating AC/DC's iconic sound and stage performance right before your very eyes. Their attention to detail, the sound, the notes, the look, and oohhhh the feel… it's all there.
This high energy, full on stage performance never stops. Crowds all across America just can't get enough of The Jack.
As the story goes…
When we started this band all we needed, needed was a laugh…years gone by and we are still kicking ass!
Four guys that not only play and love Motley Crue, but also LIVE Motley Crue. Audiences are totally captivated when Public Enemy #1 takes the stage!
THE ROCK in Tucson has been given a complete make over including a new and larger stage!!
Under new ownership and management as well!!
Tickets available day of show at the venue for only $10.00.
ALL proceeds go directly to ALL the guys in both bands!!
Support Music everywhere!!