When:
June 25, 2016 @ 6:00 pm
2016-06-25T18:00:00-07:00
2016-06-25T18:30:00-07:00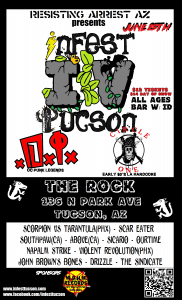 This is the fourth annual edition of inFEST Tucson, a punk festival started by Travis Fry of Resisting Arrest AZ, a local Tucson show organizer. This fest brings together punk, hardcore and metal bands from across Arizona and the entire United States. DIY all the way, by musicians, for musicians.
$12 tickets
$14 day of
D.I. (CA)
Circle One 80's Hardcore Punk(CA)
ABOVE (CA)
Southpaw (CA)
Scorpion vs. Tarantula(phx)
Violentrevolutionaz (PHX)
Scar Eater
Ourtime
Napalm Strike
Unofficial: Sicario
The Sindicate
Drizzle Punkrock
John Brown's Bones
https://www.facebook.com/InfestTucson
infesttucson.com
Sponsored by:
MDHMtucson my dad hits me