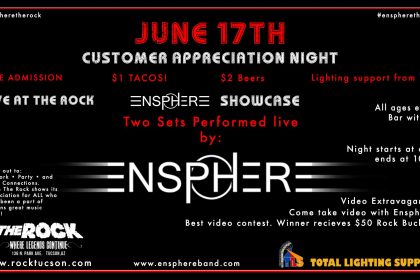 When:
June 17, 2017 @ 6:00 pm
2017-06-17T18:00:00-07:00
2017-06-17T18:15:00-07:00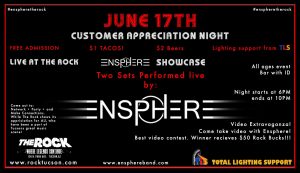 Booths from local vendors, and Tucson industry companies will be set up all through out the venue. Merchandise, Raffles, Party, Tacos, Beer, Live Music from Ensphere, Local Vendors, Brands, Merch, Vape shops, Tattoo Galleries, and much more! Come be apart of this music networking event for bands as well as companies in the industry!
If you are interested in having a booth set up at the show to represent your business please message The Rock or Ensphere.
Join Ensphere for an epic evening at The Rock. The Rock will celebrate all customers, friends, family, clients and everyone who makes Tucsons music scene GREAT! All are invited! Ensphere will host the evening with 2 hours of Live music. Ensphere is calling on all friends, family, and fans to participate in the creation of new ensphere video promo! All attendies are encouraged to bring Cameras, Cell Phones, Smart Phones or any device that captures video! Ensphere is putting together and Epic light show thanks to Total Lighting Support (TLS), and looking to capture it from as many different angles and sources as possible. All audience members are participants in the exciteing new era of ENSPHERE! Help us create an incredible moment together! Go LIVE! and get connected to Ensphere! We want to use YOUR video. The quality is not what we are after. It's the quantity that we seek for this one! However there will be a best video contest! The winner will recieve $50 Rock Bucks, and a definite spot in the upcoming Ensphere Promo videos! Use this hashtag when posting video on social media, to help us track your video: #enspheretherock, or sign one of our release forms and exchange contact info with ensphere to help us with the video you take. This show will be promoted on KFMA. Oh and did we mention Dollar Tacos, $2 Beers!!! and FREE F#*k!NG Admission!!! All Ages Event, Bar with ID. Doors a 6PM, Ensphere plays from 6:30 to 7:30 with a party intermission, and again from 8:00PM to 9:00PM.