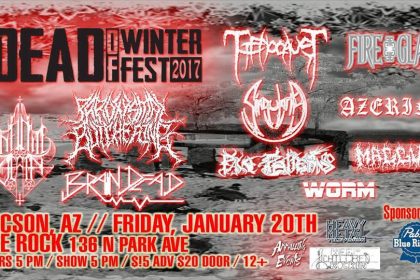 When:
January 20, 2017 @ 5:00 pm
2017-01-20T17:00:00-07:00
2017-01-20T17:15:00-07:00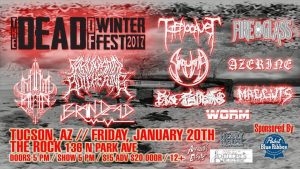 On Friday January 20th the 3rd annual Dead of Winter Fest makes its first tour stop at The Rock in Tucson!
Headlining this showcase of brutality are Paroxysmal Butchering (death metal), Infinite Death (black metal) and BRaIN DEaD (thrash metal).
The local Tucson bands ripping open the stage for them are Genocaust, Fire Glass, Azerine, Pain Patterns and Magguts.
Special Phoenix guests Singularity AZ and solo-act Worm will be performing too.
————————–————————–
YOUR ATTENDANCE WILL BENEFIT LOCAL MUSIC PROGRAMS!
For the third year in a row, we've partnered with Keep Children Rockin (a 501c3 registered non-profit based in Phoenix) and a portion of the show's proceeds will go towards purchasing music equipment for at least one (hopefully more) local Tucson school.
If you like heavy metal AND want to help keep music in schools, this is a festival you have to be at!
————————–————————–
GET YOUR TICKETS NOW:
$20 day-of-show
OR
Get $15 presale tickets from one of the local bands (pssst, that's less than $2 per band!)
————————–————————–
[DRINK AND RIDE] Use Lyft code AEJAN17 for $50 in free ride credits!
***Another live musical experience by Appalling Events***
Sponsored by Pabst Blue Ribbon