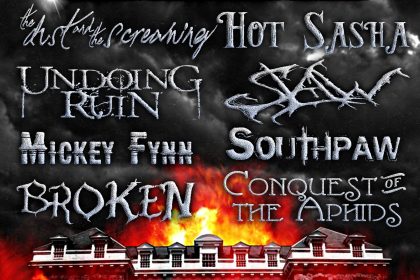 When:
April 30, 2016 @ 6:00 pm
2016-04-30T18:00:00-07:00
2016-04-30T18:30:00-07:00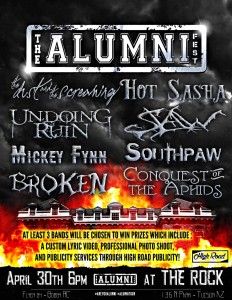 ---
Alumni Fest Competing Bands:
the dust and the screaming
Undoing Ruin
Conquest of the Aphids
Mickey Fynn
Southpaw
Hot Sasha
Low Down
Band One Sheet
Your Performance
Your band will be playing in front of an Industry professional from ALUMNI. Your band is competing for one or all of the below prizes: custom lyric video, photo shoot & (or) entry level Publicity Campaign through High Road Publicity. Bands will be responsible for their own travel and expenses on all the showcases
Your band should play no more than 4 songs and should limit sets to 15 minutes (unless otherwise noted). As this is a showcase, this will be strictly enforced and your band should be prepared to bring their "A" game and play nothing but your best 4 songs.
Judging is based on song writing, originality, professionalism, stage presence and tightness of playing. The winner is ultimately based on talent and perceived potential. However, we strongly believe bands should be getting as many fans and friends out as possible to support them. Headbang for the Highway gives out honest, yet constructive criticism. ALUMNI FEST reserves the right to select more than one band to win
All Ages | Bar with proper ID