When:
July 4, 2021 @ 6:00 pm – July 5, 2021 @ 2:00 am
2021-07-04T18:00:00-07:00
2021-07-05T02:00:00-07:00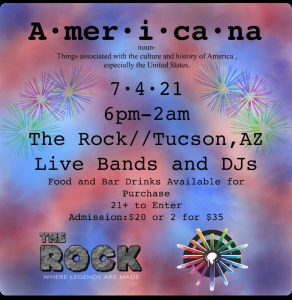 A·mer·i·ca·na
noun
things associated with the culture and history of America, especially the United States.
Join us in celebrating our culture and show pride in what we love! Music, love, laughter, and dance! This event is meant to bring people together and create a vibe unlike any other! This 4th of July is going to be a special one as In-Rave and The Rock team up to bring you a local showcase to remember! We have bands and we have DJs! 2 stages with curated production and awesome vibe sets just for you!
We welcome 3 live rock bands to the stage!
Pablo Lovetrain – Ruby Shore (Outdoor Sundown Set) – Lost Republic
7 DJs to set the vibe!
Tuesday 3000 – GFM (Club Patio Set) – Raishek – EDSON – A3 – Chrysillus – Blue Sun
We will also be hosting one of the best new food trucks in town Tata's Taqueria!!
Come down and enjoy the night after a day of family activities, catch the fireworks from 'A' mountain while vibing with everyone! We will have vendors, food, drinks, music, and fun!
We Are In-Rave
Are You In?